Description
#3 "Jazz Album of the Year" in Downbeat Magazine's 83rd Annual Readers' Poll (just behind #1 Chick Corea and #2 Wynton Marsalis) for The Poetry of Jazz.
Downbeat Magazine's "Best Albums of 2018" included The Poetry of Jazz.
NPR "All Things Considered" 5-minute feature on The Poetry of Jazz, included in "This Week's Best Stories," March 20, 2018.
"An album of unmistakable importance – one could say of historic importance." ~ UK Vibe Magazine, 5/5 review, April 21, 2018.
"The composition seems so natural…Poetry and jazz have long been great partners, but 'The Poetry of Jazz' offers a fresher take…one not to be missed." ~ The Paris Review, "Editor's Pick," March 23, 2018.
Saxophonist/composerBenjamin Boone's The Poetry of Jazz, a collaboration with the late U.S. Poet Laureate Philip Levine, was recognized as a milestone spoken word/jazz project immediately upon its release last March. Praised in leading musical and literary publications, featured on NPR's All Things Considered, and voted the #3 Jazz Album of 2018 in DownBeat's annual Readers Poll,The Poetry of Jazzestablished Boone as one of the most captivating and compelling voices among contemporary artists exploring the intersections between poetry and jazz. Below is the Press Release for this album:
Musicians and poets have been inspiring each other for millennia. On the forthcoming The Poetry of Jazz, which Origin Records will release on March 16, saxophonist-composer Benjamin Boone and Pulitzer Prize-winning poet Philip Levine make an invaluable contribution to the jazz-and-poetry canon and set a standard for the genre that will be hard to surpass in the future.
Fellow professors at California State University, Fresno, until Levine's death in 2015, Boone and Levine performed their first concert together in March 2012; that fall they decided to lay down some tracks. The Poetry of Jazz features 14 iconic poems by Levine set to compositions by Boone based on the music he heard in their words and their author's delivery.
For the recording sessions, Levine was in the studio with the musicians. "He told me, 'Why the hell would I want to be in a room by myself? I do that enough already! Have the musicians there and then that will be fun,'" Boone recalls. "There were always musicians playing live with him. Phil did most tracks in a max of two takes. 'Gin' was the absolute first take."
A highly regarded composer who often sets text to music, Boone employs a vast and vivid sonic palette in writing and arranging settings for Levine's words. He recruited an impressive cast of California players, relying particularly on drummer Brian Hamada, bassist Spee Kosloff, and pianist David Aus, who also contributed compositionally.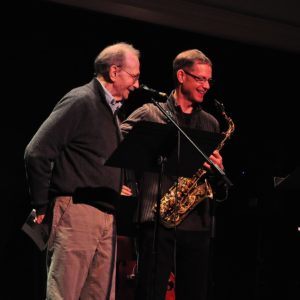 In addition, on the intimate "The Unknowable (Homage to Sonny Rollins)," Boone evokes the inner struggle and beatific quest embodied by the saxophone colossus's famous woodshedding walks on the Williamsburg Bridge, a search that materializes in the thick, sinewy sound of Chris Potter's horn. Tom Harrell delivers a strikingly beautiful statement on "I Remember Clifford (Homage to Clifford Brown)," while the mercurial altoist Greg Osby darts and weaves around "Call It Music (Homage to Charlie Parker)," about Bird's infamous Dial recording session of "Lover Man." On Boone's poignant ballad "Soloing (Homage to John Coltrane)," Branford Marsalis's sinuous tenor lines bring to life Levine's comparison between his aging mother's isolated existence and a Coltrane solo.
"I wanted to record Phil's poems about Rollins, Brown, Parker, and Coltrane, as well as his poems that created melodies when he read them," Boone says. "We talked a lot about the relationship of music and the voice, and I told him, I don't want to react word by word. The music and the poetry had to be equal and symbiotic."
A lifelong jazz fan who was born (1928) and raised in Detroit when it was a proving ground for a brilliant generation of bebop-inspired improvisers, Philip Levine often wrote about jazz and the musicians he loved in his verse. But Boone, an award-winning composer, player and educator, wanted to dig deeper. He drew inspiration not only from the subjects of Levine's poems but also from the musicality of his language and his wry, emotionally restrained recitation.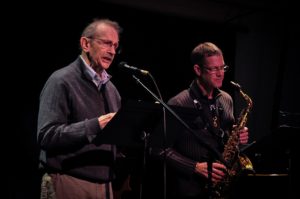 Over the course of his career Levine collaborated with musicians in a variety of settings, but felt the results weren't always salutary, which made the connection with Boone all the more satisfying. He observed that "[Boone's] ability to both hear and 'get' my writing was astonishing…He can tell just where the music needs to carry the moment or the language has to climb over the instruments. His compositions seem to grow directly out of the thrust of the language."
Born in 1963 in Statesville, NC, Benjamin Boone grew up in an intellectually stimulating family and could have devoted himself to any number of pursuits. He concentrated on the saxophone and started improvising from an early age, but was also interested in composition. "I learned a great deal about science, literature, visual art, writing, history, politics, and music from my four older brothers," he says. "So I've always gravitated towards interdisciplinary projects like this one, where I can combine playing, composition, literature, and oration to create an artistic statement that addresses history and topics relevant today."
Boone traces his fascination with the music of spoken language to a hearing issue "that makes it hard for me to understand words," he says. "When I hear people speak I hear it as music, a melodic line. This fascination with spoken language allowed me to use Phil's voice as an instrument, which makes this project unique."
Boone is heralded as a performer and composer in both jazz and new music circles. His compositions have been heard in 29 countries and on more than 25 albums and have been the subject of multiple national broadcasts on NPR. He conducted musical research in the former Soviet Republic of Moldova as a Fulbright Senior Specialist Fellow and is currently spending a year in Ghana performing and composing with African musicians as a Fulbright Scholar.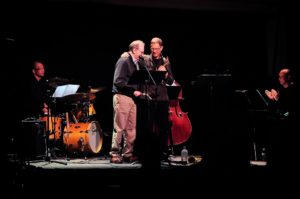 With The Poetry of Jazz Boone has opened up a new literary and musical frontier, and there's more in store. The album features the first half of the 29 poems he recorded with Levine, who addressed his readers in his classic verse, writing "if you're old enough to read this you know what work is."  •